Hardware
Firmware uC
Masters PCB
Circuiti Ibridi
Software Custom
Embedded Linux
Embedded Linux Board
Moduli I/O USB
Moduli I/O Ethernet

Moduli A/D Ethernet
LPC900 Programmer
PRM-W1 Boards
USB Key
---
Cerca nel sito
---
---
Contatti
L'Autore
PRM-W1 Electronic Board
Improved substitute for industry standard savitec 100W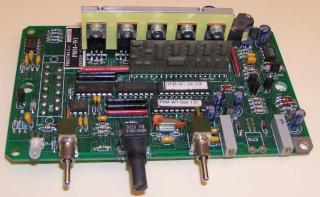 Electronic control board pin to pin compatible with original electronic Savitec board
Low cost

Existing Features
Control board for bi-phase AC motor
Speed adjustment by frequency and voltage modulation
PWM systems
Board supply voltage: 48 V/DC

New Features
Microcontroller control logic
New high performance automatic speed adjusting algorithm
Cooler working temperature
Microcontroller improved optical yarn reader sensoring
MOS power drivers
Special programming features on demand


Two switch selected programs:
MANUAL program as original electronic Savitec board, with the same features of the original control.

AUTO program with new improved features: AUTO program features may also be adapted to specific needs on demand.

PRM-W1 electronic control board is pin to pin compatible with the original savitec 100W electronic boards. You just have to change the full old (broken) electronic board with a PRM-W1 new one.
Max weaving speed: 1300m/min. (automatic in AUTO mode)
Max acceleration time: 800ms (automatic in AUTO mode)
Max brake time: 800ms (automatic in AUTO mode)
Min brake time: 8 sec. (automatic in AUTO mode)
Weaving machine length: up to 6m or more (depending on speed)
Speed adjusting time: about 5/10 sec. in AUTO mode
Mixed colors: up to 8 colors in AUTO mode (depending on weaving machine length and speed)

Contact us for further informations, orders and pricing